Spirits Will Hunt Any Northern Or Moslem Who Will Vote NPP Without Bawumia As Presidential Candidate -Widana Boldly Declares
In a live video attached to this article, Princess Widana couldn't contain her emotions when she appeared on Facebook live to warn her fellow Moslem and Northern brothers and sisters.
According to her, she won't watch for the NPP to use her brother Dr. Mahmoud Bawumia as a "sacrificial lamb".
She went further to explain that, almost all the hard defence and failure of the NPP is parked on Bawumia to defend. That makes him an asset for the New Patriotic Party.
"To my fellow Ghanaians, So now the Vice President Bawumia is a sacrificial lamb for the NPP party? Any northerner or moslem who will vote for NPP without Bawumia as a candidate, our forefathers' spirit will come after you !!!
Please share this video. It is in English and Twi" Princess Widana captioned her rants on her popular " Northern Unity" page.
Her words was met with many Reactions. While others advised her not to play tribal and religious cards, there were those who supported her words.
' You're right my sister. No Northerner has become an NPP candidate let alone becoming President. Look at what happened to Paul Afoko when he won Elections to become NPP National Chairman. We're watching them. We will collapse their party if they make any Mistake. We will show them the Northern power. If Bawumia comes, fine, hurray, he is In a President already" Yunus Abdullah commented under Princess Widana's post.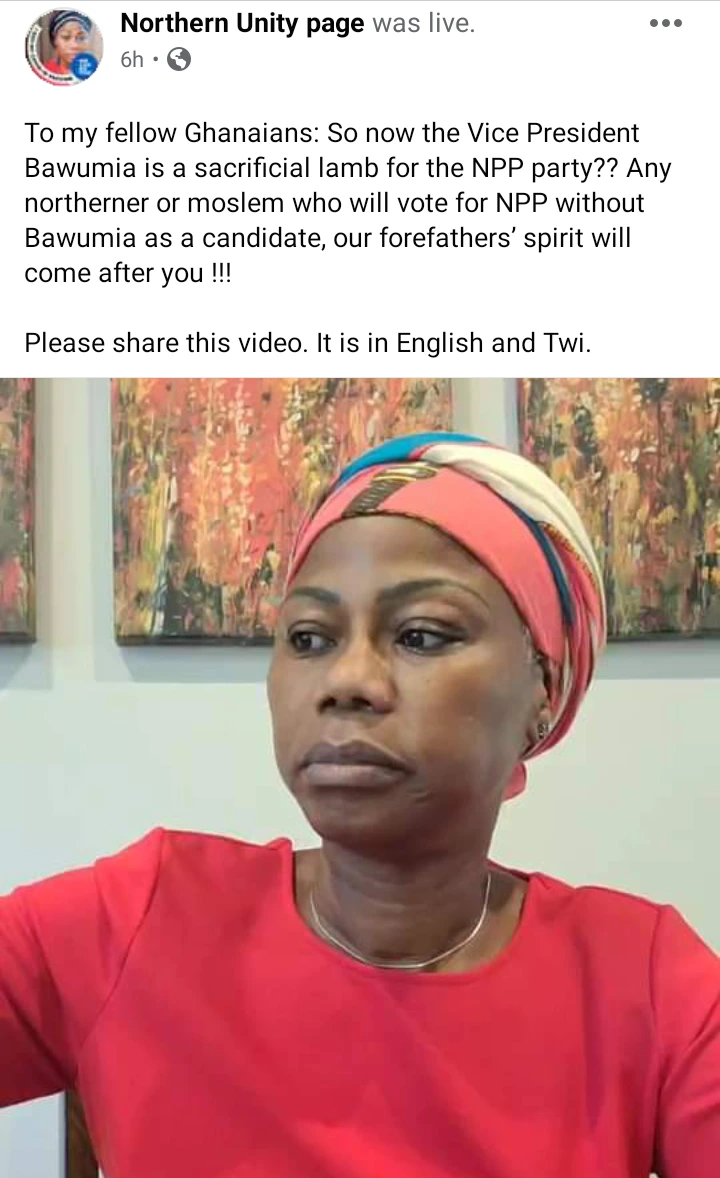 To Advertise Your Products Or Services, Please Call: +233 0240266354 or Whatsapp: 0595114788