Massive Stir As Full List Of Prominent People In Ghana Who Support LGBTQ Dropped Online; Number 4 Will Amaze You
Most Ghanaians are not ready to even listen to the debate of whether to accept LGBTQ in the country or not. They are not ready to contribute to the debate because they abhor or do not like LGBTQ being accepted in the country.
According to many people, it is against our culture and even against Christianity and Islamic religion. Many Church Reverends and Pastors have debated and preached about how the Lord will "curse" the country if we are to accept LGBTQ in Ghana.
These church leaders have therefore called on Parliament to enact laws to criminalize LGBTQ in Ghana.
However, Lawyer Akoto Ampaw and his cohorts do not agree with Parliament enacting laws to criminalize LGBTQ in the country. According to Lawyer Akoto Ampaw, the laws of the country speaks about human rights and everyone should be allowed to enjoy the fundamental human rights.
Earlier today, we have chanced on a picture which contains a list of people who are backing Lawyer Akoto Ampaw to fight the bill which the Parliament wants to pass into law to criminalize LGBTQ in Ghana. On the list, the number 4 is Dr Charles Wereko Brobbey. He being on the list has really shocked most people who commented.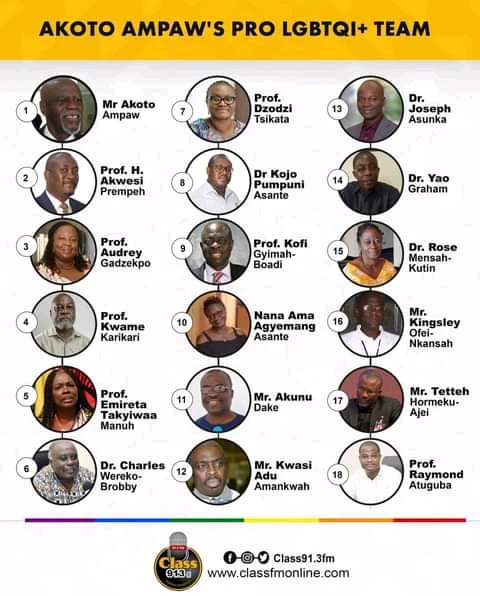 To Advertise Your Products Or Services, Please Call: +233 0240266354 or Whatsapp: 0595114788