Hackers Attack WAEC Website To Change Results of Some Candidates -See Wild Statement Issued
The website for the West African Examination Council was hacked prompting changes in results of candidates.
Candidates especially those whose results were released by the council this week have been trooping to the eresults.waecgh.org platform to check and to printout their results but by the early evening of yesterday, an unusual occurence on the platform meant some results were being altered prompting a shutdown of the platform.
The Examination Body has now explained that the website had to be shutdown because of a technical hitch which occurred in the twilight of Friday[December 10].
The challenge saw results of some people who initially were scored a B3 in a particular subject altered to A1, even though the interpretations of the scores remained the same.
"One of the council's platforms, eresults.waecgh.org, used for checking of results experienced a technical hitch on Friday, December 10, 2021, between 4:45pm and 6:00pm."
"This resulted in subjects which originally had grade B3 with interpretation GOOD being Changed to A1 with the interpretation GOOD still showing, clearly indicating a problem," WAEC explained in a statement.
The council has said the website was shut as soon the strange occurence was noticed and the problem has since been fixed.
The council has also apologized to those who were affected by the problem and has moved ahead to assure the general public that their results data base is now safe secured.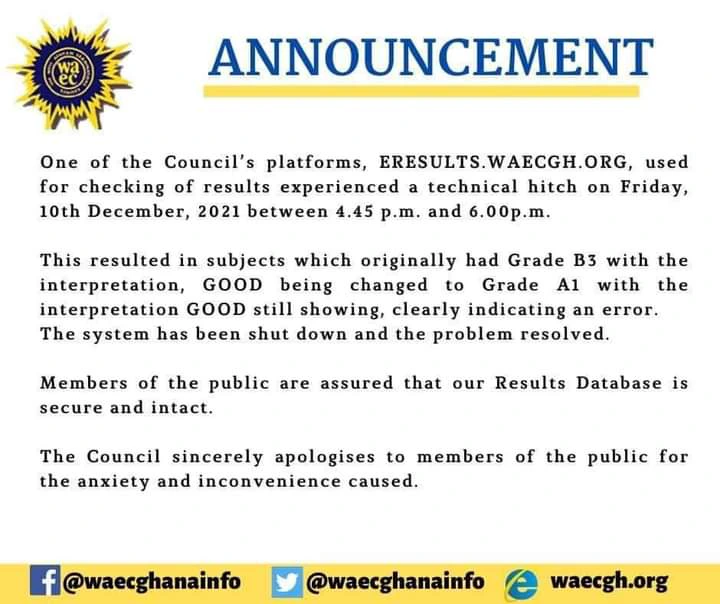 To Advertise Your Products Or Services, Please Call: +233 0240266354 or Whatsapp: 0595114788