Ghana Education Service Sends Out Vital Message -See Statement Signed By Director General
The Management of Ghana Education Service (GES) after receiving number of requests from school authorities for permission to organize various anniversaries and programmes has in a letter dated on 26th October 2021 released the guidelines for celebrating various anniversary Programmes.
According to the letter based on the limitations imposed on gatherings as a result of efforts to fight COVID-19, the following guidelines are to be observed by all schools in their wish to organize school anniversaries and programmes: Open Days, Speech & Prize-Giving Days etc.
First of all, Schools should apply to the Director-General, through their respective District, Regional Directors for specific approvals to organize any such anniversary or programmes.
Also the application should indicate the following: -The nature of the anniversary or programme Proposed date or dates
– Intended Senior Government Officials to be invited (if any)
The letter further indicated that, Sources of funding for the anniversary or programme The duration of the programme shall not exceed three 13) hours in each case. The respective Regional/District Director shall be held strictly responsible for the breach of this particular guideline. The outline of proceedings for the anniversary or programme shall be approved prior to the due date and no excuse will be accepted for the need to go beyond the indicated three (3) hour limit.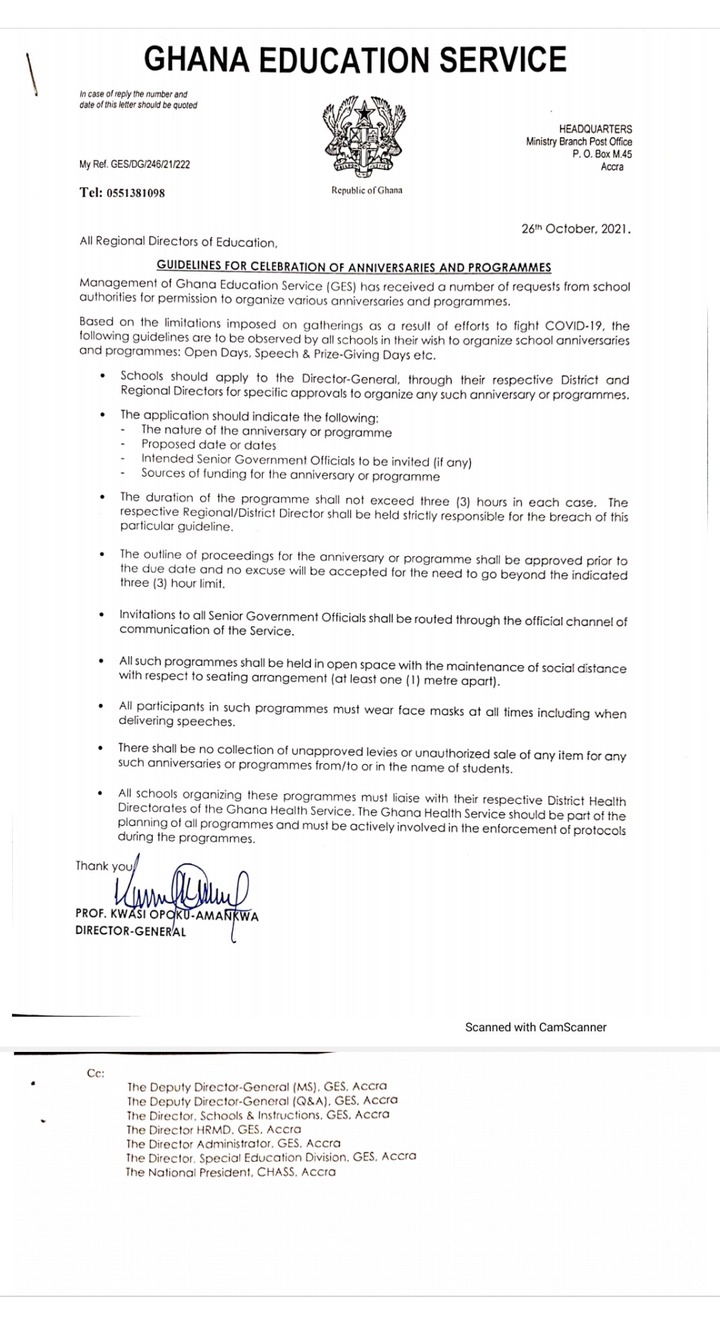 Also Invitations to all Senior Government Officials shall be routed through the official channel of communication of the Service.
All such programmes shall be held in open space with the maintenance of social distance with respect to seating arrangement (at least one (1) metre apart).
The letter also asked that All participants in such programmes must wear face masks at all times including when delivering speeches.
• There shall be no collection of unapproved levies or unauthorized sale of any item for any such anniversaries or programmes from/to or in the name of students.
All schools organizing these programmes must liaise with their respective District Health Directorates of the Ghana Health Service. The Ghana Health Service should be part of the planning of all programmes and must be actively involved in the enforcement of protocols during the programmes
To Advertise Your Products Or Services, Please Call: +233 0240266354 or Whatsapp: 0595114788